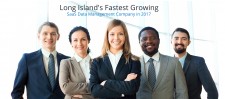 Long Island Software Leaders Announce Expansion Plans
MELVILLE, NEW YORK , March 30, 2017 (Newswire.com) - ​​​RingLead today announced plans to create 50 jobs on Long Island and move 90% of existing jobs to its headquarters office in Melville by December 2017. These new job opportunities require varying levels of experience, education and skillsets– from product managers and software developers, to inside sales representatives and technical support specialists. New hires will receive on-the-job training from seasoned developers and business leaders, including direct training from CEO Christopher Hickey and Executive Chairman Russ Artzt.
Hickey and Artzt both have a proven track record of creating jobs and developing talented, highly sought after employees. In the last five years Hickey has hired hundreds of employees on Long Island at his two former companies–Teq and Total Defense. Hickey has developed a performance-based culture based on training, collaboration and execution that works.
"When creating a company, culture and environment I always ask myself, would I want my son or daughter working here?"

Christopher Hickey, Chief Executive Officer
"When creating a company, culture and environment I always ask myself, would I want my son or daughter working here?" said Hickey. "The average career lasts a minimum of 45 years and employees need to remain competitive in the marketplace in order to exceed expectations and avoid turnover. RingLead will develop and reward employees who achieve expectations by allowing them to own equity in the company with performance based-stock options. Performance-based stock is offered to all RingLead employees."
RingLead opened its Melville headquarters in December and plans to close all other offices except its Milwaukee office. The 14-year-old company will move its entire development team to Long Island, including jobs that are now based in Belarus, Ukraine and Israel. RingLead plans to relocate some of its overseas employees to Long Island, and find local replacements for others.
For Hickey and Artzt, Long Island is both strategic and meaningful.
Hickey and Artzt have both built their lives on Long Island, including expansive careers, families and home ownership. This is Hickey's third technology company that he has chosen to headquarter on Long Island in the last 25 years.
"Long Island has some of the strongest education systems in the country," said Hickey. "Right here on Long Island we have schools that start strong computer science programs as early as the 4th grade. We have robotics programs and stem initiatives. Long Island schools groom such amazing talent and we want to cultivate that talent."
Hickey added that he understands the importance of work-life balance and doesn't believe local graduates should have to waste 4 hours a day commuting to New York City for work.
With RingLead's new flagship product, Data Management Solutions launching in a few weeks, RingLead is focused on hiring for roles in Sales, Development and Support. Other departments where jobs will be created to support RingLead's growth include Human Resources, Finance and Marketing.
"While the rest of the business world is taking jobs away from Americans, we want to bring jobs back," Artzt said. "I'm committed to training and developing the next generation of technology and software leaders right here on Long Island."
Russ said he believes Stony Brook University, New York University, Hofstra, St. Johns and Queens College all have strong computer science and engineering programs that produce top-notch candidates.
RingLead, Inc. is the fastest growing SaaS company on Long Island. RingLead offers a complete end-to-end suite of products to clean, protect and enhance company and contact information. Since 2003, RingLead has helped solve the dirty data problems of large enterprises, Fortune 500 companies and small businesses across the globe.
Source: RingLead
Share: