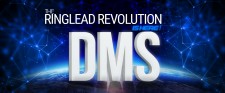 DMS is the industry's only fully integrated SaaS platform that deduplicates, prevents duplicates, cleans and enriches leads and contacts in real time
Melville, New York, April 5, 2017 (Newswire.com) - RingLead, Inc., a leader in data quality management, today released Data Management Solutions (DMS), a revolutionary, cloud-based platform that enables businesses to unlock the potential of their database through data hygiene and enrichment. Backed by patented technology, DMS allows companies to clean, normalize, deduplicate, prevent duplicates and enrich data. DMS is the only tool on the market that integrates with Marketo and other marketing automation systems to offer complete duplicate prevention from all data sources. Hosted on Amazon Web Services, DMS is scalable, secure and reliable, and is capable of processing an unlimited number of records with unparalleled accuracy and speed. With DMS, RingLead is revolutionizing the way the world views data.
"Bad data inhibits your growth as a company," said Russ Artzt, Executive Chairman of Innovation and Development. "A lot of companies tell us their sales reps aren't productive. Why are they not productive? Because they spend half of their day chasing bad data. CIOs, CEOs, CMOs, they're all spending too much money investing in lists and buying tools that do nothing for productivity. With DMS, we solve that problem. We can enrich while we dedupe, and we can do it all in the cloud."
"DMS made it painless to not only merge duplicates, but also to enrich blank fields with social and contact data. I can honestly say with confidence that DMS is now the leading data management solution in the industry."

Jeroen Plink, Beta Customer, VP strategy Leopard Solutions
DMS builds on all of RingLead's most popular and highly-rated products on the Salesforce AppExchange–Unique Entry, Unique Upload, Web-to-Lead and Data Cleanse. In the current release, companies have the option of licensing Data Cleanse, List Import, Web Submissions, Normalization, Unique Entry and Data Enrichment. Flexible licensing ensures companies pay for the tools they actually need, and nothing else.
"We've been beta testing this product for a month now, and I have to say, I don't know how we ever managed our marketing database without it," said Jeroen Plink, VP strategy Leopard Solutions. "Within the first week of using DMS we discovered that a large percentage of our Hubspot database could benefit from cleaning. DMS made it painless to not only merge duplicates, but also to enrich blank fields with social and contact data. I can honestly say with confidence that DMS is now the leading data management solution in the industry."
DMS Duplicate Prevention and List Import both feature over 55 best-in-class Matching Rules to identify and group duplicates. All three duplicate prevention tools– List Import, Web Submissions and Unique Entry–normalize and enrich data fields during an import. RingLead enriches company and contact data with everything from social links and phone numbers, to company size, SIC Codes and revenue. RingLead's enriched data improves insight into leads, accounts and contacts, strengthens lead scoring, and allows marketers to deliver targeted, highly-relevant content.
"Nobody in the world has a product like this," said Christopher Hickey, chief executive officer. "Our ability to integrate with marketing automation systems bridges the gap between sale and marketing executives. With DMS, companies can regain control of their databases, generate valuable insights to drive campaigns, implement Account-Based Marketing strategies, improve lead scoring and segmentation... The possibilities with DMS are infinite."
DMS features an intuitive, highly-responsive user interface designed to enable users of all experience levels to easily complete tasks. A sleek, comprehensive dashboard provides key analytics on duplicates found, duplicates prevented and records enriched. DMS features continuous maintenance, updating automatically in the cloud to ensure users are always working on the latest release.
Artzt, co-founder of CA Technologies and lead innovator behind DMS, says the roadmap for DMS is filled with exciting releases, including scheduled batch jobs, advanced segmentation, and a Capture 3.0 integration.
RingLead, Inc. is the fastest growing SaaS company on Long Island. RingLead offers a complete end-to-end suite of products to clean, protect and enhance company and contact information. Since 2003, RingLead has helped solve the dirty data problems of thousands of enterprises, Fortune 500 companies and small businesses across the globe.
Source: RingLead
Share: