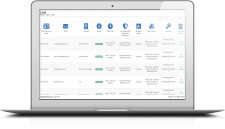 NEW YORK, August 9, 2019 (Newswire.com) - ​​​​​RingLead, a leader in data operations, today announced a wave of strategic improvements to its market-leading data quality platform to support businesses seeking a replacement for the retiring Data.com. New enhancements include advanced lead routing, an AI-powered rules engine, data segmentation, and data discovery. These features, combined with the robust capabilities of RingLead's existing solutions, result in a comprehensive, single-sign-on data operations platform anticipated to better serve customers migrating from Data.com.
Salesforce announced this summer the retirement of its Data.com Prospector and Data.com Clean products, with licenses no longer available for renewal effective July 31, 2019. Existing contracts will be honored and supported through to July 31, 2020.
"Understanding that data is any company's most valuable resource, we remain laser-focused on building out the most robust data operations platform on the market, and these enhancements validate that," said Russ Artzt, RingLead Executive Chairman. "Strategic features like segmentation and intelligent lead routing will benefit not only former Data.com customers but also our existing customers who have been working with us over the last decade and suggesting these features."
The RingLead Platform unifies all core data operations in a single, cloud-based platform. From lead generation, routing, and deduplication to data protection, discovery, and enrichment, RingLead enhances the effectiveness of CRMs and Marketing Automation Systems like Salesforce, Marketo, Pardot and Eloqua.
RingLead's latest class of enhancements include:
Intelligent Routing enables companies to route leads with unparalleled accuracy and precision, and maintain complete control over their rules of engagement with an AI-powered rules engine. Available as a stand-alone product, RingLead Route was made GA in July 2019.
Data Segmentation empowers businesses to group data together based on unique parameters, such as location, age, or job title. Businesses can create intelligent custom segmentation rules for their data for instant grouping of records from web forms or list import.
Data Discovery will equip RingLead users with a way to quickly and reliably discover hundreds of relevant leads at target accounts, and enrich those records with key contact, social and firmographic data like job level, title, and direct dial.
RingLead also plans to introduce new integrations in the upcoming months, most recently announcing an integration between its lead generation tool Capture and the market-leading sales engagement platform Outreach.
Source: RingLead
Share: