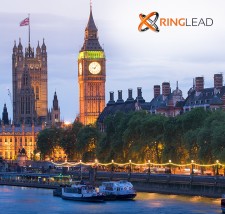 RingLead targets Europe, Australia and key U.S. cities with executive sales training and relocation program
MELVILLE, NEW YORK , July 11, 2017 (Newswire.com) - RingLead, a leader in data quality management, today announced an executive sales training and relocation program to facilitate its expansion into international markets. Program candidates will spend 1-2 years training with sales veterans in New York before returning to their respective country, or a country they desire to work in, to open and manage an international RingLead office. RingLead will pay for relocation, and candidates will be allotted housing stipends for a period of time, contingent on their ability to execute clearly outlined expectations provided at the time of hire. This exciting program launch reflects a pivotal point in RingLead's 2018 European Expansion Plan, and is complimentary to RingLead's ongoing commitment to creating jobs on Long Island.
"RingLead is looking for the best and the brightest that Europe and Australia have to offer," said Christopher Hickey, RingLead's CEO. "We're seeking candidates with proven track records of delivering in high-performance environments, and with a genuine interest in pursuing a career in executive sales. As we expand internationally, we will also continue creating opportunities for local college graduates and young professionals on Long Island."
To discover the best talent in Europe, RingLead has signed an exclusive deal with top European recruitment agency, Sigmar Recruitment.
"We believe that combining RingLead's brand and Sigmar's European reach will disrupt traditional recruiting models and will enhance our ability to continuously attract high performing talent," said Robert MacGiolla Phadraig, Sigmar Recruitment's Founder & Director/ CCO. "RingLead's innovative solutions, growth velocity and world renowned leadership team make it a prestigious employer of choice that will attract Europe's brightest talent. We are excited to announce this partnership and to connect the best of Europe with the best of the U.S." 
RingLead will begin its aggressive search with a focus on the United Kingdom, Germany, Australia and France. Candidates who speak German, French or Dutch are preferred. For the duration of the program, candidates will call in to their territory in Europe or Australia from the U.S., and will work hours based on their territory to position RingLead as a leader in both markets.
Program candidates will receive extensive hands-on training, become product certified, and have access to online training from RingLead University, Cardone University, LinkedIn Sales Navigator, WebInfinity and more. Throughout the course of the training program, candidates will work on prospecting in their respective territories, enabling them to build a foundation in the territory they will later manage. Candidates will be allotted three paid trips home for on-site visits with prospects and customers, as well as time off to visit family.
"Sigmar Recruitment is delighted to partner with RingLead to source all top talent in the European market," Rossa Mullally, Sigmar Recruitment's Associate Director. "Sigmar welcomes the opportunity to work with a company with such a high growth trajectory and we are excited about working with RingLead CEO Chris Hickey, a global pioneer in software sales."
In addition to targeting Europe, RingLead will focus on expanding in three key U.S. cities: New York City, New York, San Francisco, California, and Austin, Texas. Since January, RingLead has hired a total of 25 local candidates to work at its headquarters office in Melville, New York.
"RingLead is committed to growing and to dominating key territories with our innovative line of data management solutions, DMS," said Hickey. "This training program, along with the recent opening of our New York City office, reflects our overall commitment to becoming the #1 data management provider in the industry."
Source: RingLead
Share: