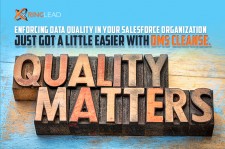 MELVILLE, NEW YORK, July 18, 2017 (Newswire.com) - RingLead Inc., an industry-leading SaaS data management provider, today released a task scheduler in its premier data deduplication tool, DMS Cleanse. Within DMS, users can now configure multiple deduplication tasks to run hourly, daily, weekly or monthly, based on a business' unique data management needs. Over 55 custom logic matching rules, custom master record selection, and custom field level selection make it possible for users to automate deduplication tasks with confidence and a level of unparalleled accuracy. The scheduler is now available to all existing DMS Cleanse users via an automatic cloud update and is available for all future purchases of DMS Cleanse at no additional cost to users.
"The release of a new DMS Cleanse scheduling feature, just months after the platform itself was released in April, is a reflection of our ongoing commitment to providing innovative, high-quality data management solutions that meet the ever-changing demands of the industry, and of our clients," said Christopher Hickey, RingLead's CEO. "We have additional new releases coming soon to DMS Duplicate Prevention and DMS Enrichment that I'm excited for us to share. This is just the beginning of the RingLead revolution."
DMS Scheduler allows users to leverage preset deduplication matching templates, or configure completely unique templates to satisfy their organization's needs. To keep task owners informed on all DMS Scheduler activity, DMS sends out an email notification every time a task has been successfully executed. Once a task is complete, a user may choose to review the duplicates and defer the merges to a later time, or review and merge duplicates all at once. In-depth overviews of task results are available within DMS in a convenient "Reports" section. Within this section, users can view everything from task execution frequency and the number of records analyzed in a task, to the number of duplicates found, and the number of duplicates merged as a result of a task.
Tasks can be disabled at any point by simply logging into the solution.
"Introducing a task scheduler was the next logical step for us," said Russ Artzt, RingLead's Executive Chairman. "DMS already enables users to deduplicate and standardize data with extreme precision. Now, users can essentially automate data quality. They can set 30 deduplication tasks to run, log out, and trust that DMS will maintain the quality of their data and alert them of any necessary merges or actions."
RingLead, Inc. is the fastest growing SaaS data management company on Long Island. RingLead offers a complete end-to-end suite of products to clean, protect and enhance company and contact information. Since 2003, RingLead has helped solve the dirty data problems of thousands of enterprises, Fortune 500 companies and small businesses across the globe.
Source: RingLead
Share: