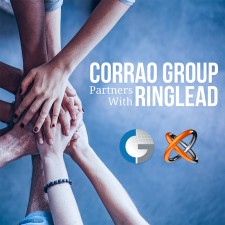 RingLead DMS will be incorporated into Corrao Group's ABM portfolio
MELVILLE, N.Y., April 19, 2018 (Newswire.com) - RingLead, a leading data management provider managing over 300 million records worldwide, and Corrao Group, a national Account-Based Marketing (ABM) Salesforce® Partner, today announced a collaborative partnership to scale RingLead's reach and domination of global markets through secure, integrated data management solutions. As a key reseller partner in RingLead's Partner Program, Corrao Group will leverage RingLead to create holistic, collaborative approaches that deliver sustainable business outcomes centered on data. RingLead launched its partner ecosystem in January 2018 to manage and maintain its unprecedented growth following the release of its leading data management platform DMS and has already observed a 75 percent year-over-year growth since the launch.
Adopted by more than 600 customers across the globe, RingLead DMS consolidates all core data management processes, from lead generation and data deduplication to data protection and enrichment, into a single unified SaaS platform, powering the effectiveness of CRMs and Marketing Automation Systems like Salesforce® , Marketo, SugarCRM and Pardot. RingLead's innovative partner ecosystem aligns growing businesses with RingLead's scalable data management technology to allow businesses to discover higher returns on sales and marketing investments.
Our strategic alliance with RingLead strengthens our ability to support organizations in achieving their business initiatives.

Jack Corrao II, Managing Partner of Corrao Group
"Our strategic alliance with RingLead strengthens our ability to support organizations in achieving their business initiatives," said Jack Corrao II, managing partner of Corrao Group. "We already have a team of highly experienced experts and now have the technology to match. The collaboration between Corrao Group and RingLead supercharges our existing efforts. I'm incredibly excited about what this means for our ABM customers."
Offering a full range of customized Salesforce® services and products, Corrao Group enables businesses to optimize their Salesforce® for increased return on investment. Corrao Group boasts a Salesforce® footprint of more than 820 national clients, having completed more than 1,600 Salesforce® projects in its 15 years of business.
As a certified Platinum Partner, Corrao Group will have full access to RingLead's state-of-the-art Partner Management System and Partner Exchange to fuel its ability to successfully build a business around RingLead, as well as around their own products and services. RingLead's Partner Management System provides continuous and transparent insight into deal registrations and commissions, while RingLead's Partner Exchange sets the stage for Value Added Resellers (VARs) to connect directly with potential customers and expand their own service networks.
"Both RingLead and Corrao Group have a shared interest in data and CRM optimization," said Phil Iserino, director of sales at RingLead. "Corrao Group's team of Salesforce® implementation, optimization and expansion experts, combined with our full-stack technology, creates an unparalleled force that will transform the market and inspire data exploration in a secure environment."
Supporting Quotes
"Corrao Group is a leader in the Salesforce® community and has been for more than a decade," said Christopher Hickey, RingLead's CEO. "We believe that by aligning our efforts, an increased number of companies will reap the benefits of quality data and recognize higher returns on their Salesforce® and data investments."
About RingLead's Premier Partner Program
RingLead's Premier Partner Program will focus on partnering with VARs who specialize in supporting Salesforce® , Marketo, Microsoft Dynamics, SugarCRM and other CRM and Marketing Automation Systems.
Each of RingLead's three partner categories are feature-rich, scalable and full of benefits and partner-enablement resources:
RingLead Ambassador: Individual Advocates and Affiliates looking to recommend RingLead to their community. Apply here.
RingLead Partner Referral: Small VARs, Implementation Partners, CRM Architects and Consulting Companies looking to recommend RingLead to their prospects and customer base. Apply here.
RingLead Partner Reseller: VARs with strong business practices around CRMs and Marketing Automation Systems looking to optimize those platforms by reselling DMS. Apply here.
A few notable elements of RingLead's Premier Partner Program include:
Access to the RingLead Partner Management System which includes product training, sales training, lead generation opportunities, rewards, free trials, co-branded marketing collateral and hundreds of other partner-enablement resources. RingLead will provide full transparency and insight into registered deals as RingLead's certified sales team moves those deals through the sales cycle - from deals registered to deals closed.
A dedicated partner management and support team comprised of a Director of Sales and Senior Account Executive to help support growth and development as a partner in order for our partners to hit their commit.

Collaborative opportunities with RingLead to help close business by working with our SMB, Commercial and Enterprise account teams.

Earning opportunities of up to 25–30 percent in Referral Fees and product discounts as partners move through different partnership levels and meet or exceed partnership requirements.

Custom service work orders (exclusively for Platinum Partners) from RingLead and full access to RingLead products and data to fulfill custom work orders.

Access to RingLead Rewards program for Premier Partners to earn instant rewards for qualified deal registrations.

For more information about becoming a RingLead Partner, please visit RingLead Partner Program.
Source: RingLead
Share: